small scale agriculture is the cornerstone of agricultural transformation in Africa. with less than 2ha of land, small scale farmer's contribute up to 80% of food productivity. And as you observed in this picture, Youths and women are the most involve. According to the the new science agenda adopted in Accra during Agricultural extension week by FARA, do you think that our agriculture policy are considering Small scall agriculture?
Foundation for Young Farmers
Small-scale agriculture holds big promise for Africa
Supporting smallholder irrigation through finance and technical assistance could significantly improve productivity and incomes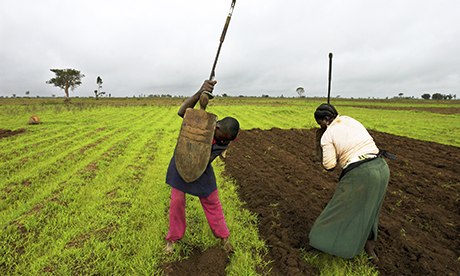 Farmers tend a field near Yelwa, Nigeria. Photograph: Jacob Silberberg/Getty Images
The recent discovery of a large aquifer in Kenya is a reminder that far from being dry, Africa has abundant water resources. The problem for farmers is access: only around 6% of cultivated land is equipped for irrigation, leaving millions dependent on rain-fed agriculture. How might more of them be helped to access water that could raise their productivity?
Large-scale, government-funded irrigation systems have long attempted to address this, with varying degrees of success. Those systems have a place, but research by the International Water Management Institute (IWMI) has found that many smallholders are themselves taking the lead and investing in…
View original post 977 more words